Graduate Celebration at MDC's Idea Center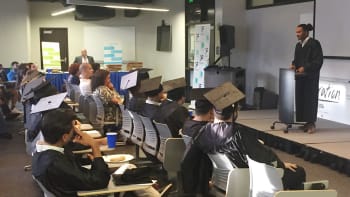 Focused on decreasing the Miami unemployment rate among youth, Generation provides employers the highly-skilled, motivated talent they need and empowers individuals to build thriving, sustainable careers.
A group of more than 20 students crossed the stage in a graduation ceremony May 11 at Miami Dade College's Idea Center, all with a new set of professional skills to take with them on their career paths, free IT certifications, and jobs and internships in a help desk or network support environment. These students, part of local non-profit Generation's Information Technology (IT) program, join a Florida alumni network of more than 400 and a global network of more than 18,000.
Generation's honored guest and Miami community business leader, Isaias Sudit, was the keynote speaker. Sudit has spent the last 20 years creating and building high-growth companies. Prior to founding TROVE, Sudit launched and developed three companies in the technology and data aggregation service industry. Sudit has raised more than $30 million in investment capital for his ventures, and is an active member in the South Florida entrepreneurial community. He sits on the advisory board of Entrepreneurs Organization (EO), The Florida International University Pino Global Entrepreneurship Center, The Idea Center at Miami Dade College, and the University of Miami SBA Entrepreneurship Board. Sudit holds bachelor of science and master of science in mechanical and manufacturing engineering from The Ohio State University.
Graduates in the IT program complete an intensive 16-week "bootcamp-style" program that integrates technical training along with behavioral and mindset skills, which helps students prepare to overcome both workplace and personal challenges. After completing the program successfully, students often seek job interviews with Generation's employer partners in Miami like, General Electric, Ultimate Software, Tek Systems, Cylogic, Valuedoc, Verizon, and Netacorp.
In addition to helping students find sustainable careers and long-term employment solutions, all 22 students in the program are now CompTIA A+ certified – free of charge to them. Graduates like Javier Crespo say Generation changed his career trajectory and helped him gain traction in the workforce.
"Before Generation, I was doing nothing with my life — fulfilling goals that would lead me nowhere. During my time in the program, I gained a roadmap to accomplishing attainable goals, which took me from the couch to the classroom, now to corporate environment," said Crespo.
Other speakers at the ceremony included Romi Bhatia, executive director at the MDC Idea Center, Renee Lambert, outreach specialist at TechHire, Vidal Rodriguez, class instructor, and Justin Burandt, program coordinator and students Juan Obando, Arcel Diaz, and Durdona Giabova.
Funded by a grant from Tech Hire, Generation serves a population of young people for whom the existing education-to-employment system has not worked. Programs focus on empowering individuals who have faced significant barriers in their lives and life challenges, including those as basic as transportation and child care. To allow Generation students to manage their lives during training and focus on learning, Generation helps provide, if needed, assistance for transportation, child care, occasional meals, and access to other wraparound services.
To ensure a holistic approach to empowering and uplifting Miami youth, social support and mentorship is available to all students throughout the course. Generation ensures that graduates continue to have access to support and regular follow-up contact for the first six months of their employment.
To date, more than 100 students have graduated from Generation's Miami IT program in the past two years. Together with a range of partners, including a coalition of 20+ local businesses, non-profits, and education providers, Generation's classes provide Miami young adults accelerated training as IT help desk technicians, network support, and customer service representatives.