Generation HK are now the supporting organization for ReThink HK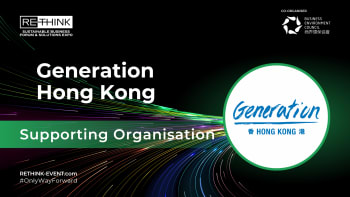 Generation Hong Kong is thrilled to have had the opportunity to participate in the enlightening ReThink HK 2023 event. As a dedicated supporting organization, we align closely with ReThink HK's values and are wholeheartedly committed to driving sustainable development and making a positive impact in Hong Kong.
This captivating event provided us with a unique perspective on globally recognized risks and opportunities, all within the context of Hong Kong. Engaging in meaningful conversations, we explored innovative solutions and discovered new pathways toward a sustainable future. The wisdom and inspiration gained during this event will serve as a guiding light, shaping our future actions and initiatives.
We extend our heartfelt gratitude to ReThink Hong Kong for granting us this incredible opportunity to expand our horizons and connect with like-minded individuals who share our passion for creating a sustainable future. At Generation HK, we firmly believe in fostering talent sustainability, enabling employers to maintain organizational stability while transforming education-to-employment systems. By preparing, placing, and supporting individuals in life-changing careers, we strive to create a more sustainable Hong Kong.
Together, let us forge a path towards a brighter and more sustainable future for Hong Kong and beyond.