Generation Hong Kong & iMBrace formulated  a win-win recipe for the new generation to work in the Tech industry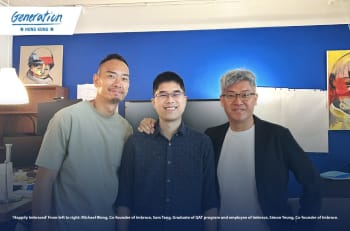 iMBrace, a leading software company in Hong Kong, has announced its continued partnership with Generation Hong Kong to promote the employment of young and SEN Hong Kong residents in the city's workforce. Through our MANUAL QUALITY ASSURANCE TESTING (QAT) PROGRAM, testers manually execute tests to identify software loopholes and bugs. As the innovation and technology industry grows in Hong Kong, the role of Manual Quality Assurance Testers becomes increasingly significant. 
The program, created with Employer Partners, focuses on developing testing skills and enhancing social and communication abilities in a short period. Graduates will receive the latest career market updates and professional advice and will have numerous career options, such as Software Quality Assurance Tester, Web Quality Assurance Tester, and Mobile App Quality Assurance Tester.
Some of the skills to be learned during the program:
Software testing knowledge and skills

Project Management

Applying testing application (Jira)

Understanding Test Plan and Test Case

Workplace communication and collaboration skills
The positive feedback from our employer partners:
…

"THEIR TECHNICAL SKILLS AND ABILITIES ARE MEETING OUR EXPECTATIONS. WE ARE VERY HAPPY TO HAVE THEM AS PART OF OUR COMPANY!"

…
In Conclusion
We are thrilled to see the success and impact of our MANUAL QUALITY ASSURANCE TESTING PROGRAM for Special Education Needs (SEN) youth in the IT industry. We would like to thank our partners for their valuable feedback and support, which has enabled us to expand our program and provide more opportunities for our SEN youth. Building on our achievements, we are excited to announce the launch of a new training program for SEN youth – JOCKEY CLUB CLAP-TECH PATHWAY: STAR "ROBOT SUPPORT ASSISTANT" EMPLOYABILITY BOOSTER. With this new program, we aim to provide more comprehensive training and employment support to our SEN youth, helping them to build successful careers in the IT industry. We look forward to continuing our work and making a positive difference in the lives of our SEN youth.